History
A steering committee consisting of Don Robinson (Grocer), Kevin McManus (Real Estate), Noela Story (Travel Industry) and Allan Bate (Plumbing Contractor) began meeting in early 1983 with the view of forming the Lara Chamber of Commerce and Industry.
A dinner meeting was arranged for Tuesday 13 September 1983, at the new Bistro at the Lara Hotel.
78 people representing 48 businesses attended this augural meeting.
By November, there were 42 paid up members and at a meeting on 15 November, the following office bearers were elected:
President – Kevin McManus
Vice President – Don Robinson
Secretary - Dot Tattersal
Treasurer - Elizabeth Morrison
Committee:
Allan Bate,
Colin McElhinney,
Josie Runia,
Roy Salmon.
The above text is an excerpt taken from pg. 169 of "From Duck Ponds to Lara" a small historical book, published by the Lara Heritage Festival Inc 2004. It is still available for purchase at the Lara Heritage and Historical Inc. (Cnr of Forest Road South & Canterbury Road, Lara).
life memberships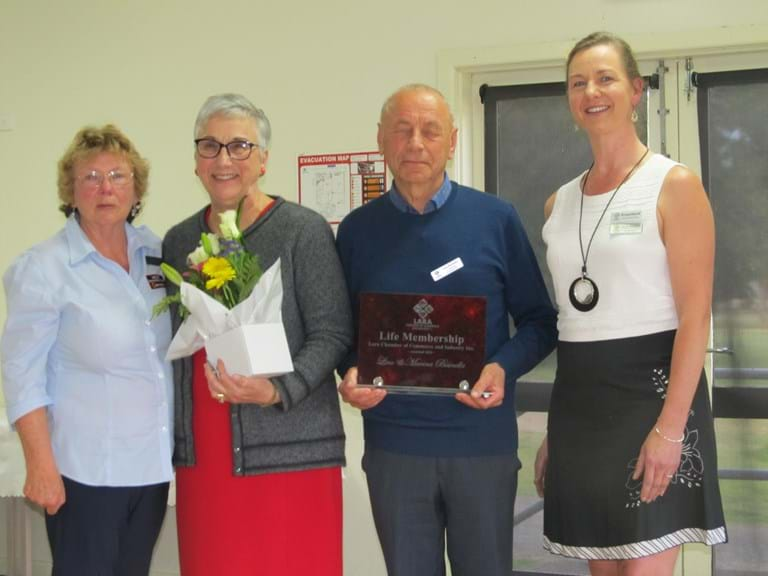 To acknowledge significant contributions by Members to the Lara Chamber of Commerce & Industry Life Memberships have been awarded to the following members
Bill & Leslie Archer
Don & Jeanette Robinson
Kevin & Theresa McManus
Libby & Allan Bate
Fred & Josie Runia
Les & Jenny Kelly - 2013
Karen Madden - 2016
Lino & Marina Bisinella - 2018