Community Mental Health Fundraiser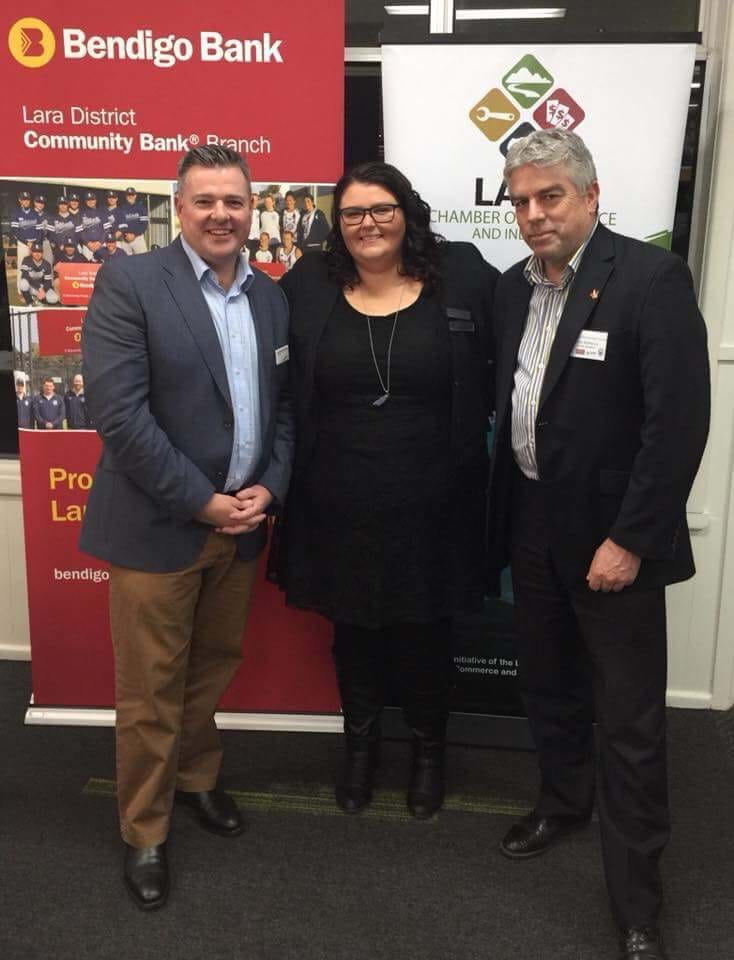 Lara Chamber of Commerce & Industry and Lara Sporting Club came together with sponsor Lara & District Community Bank, in our recent Mental Health dinner fundraiser showcasing how important this issue is to our community. Over 70 guests representing local organisations and residents heard about current issues around mental health affecting our Youth and people of all ages. Guest speaker Tony McManus shared his personal experience with suicide and insights from Headspace, Beyond Blue and RUOK. He stated mental health issues can emerge at any age, and often people will hide this from those closest to them. Tony highlighted how important it is for people to feel connected and 'listened to' in times of conflict or trauma and that volunteering can be a very positive mental health strategy.
Tony's full presentation can be found here:
https://www.dropbox.com/s/an8begnutwtsmqp/LCCISept18.pptx?dl=0
Lara sporting Club President Peter Kelly and Well-being officer Jason Van Doren discussed player programs including Read the Play and importance of players supporting each other so that no one feels isolated. It was also terrific to hear from Wayne Tyrrell, Lara Secondary College Principle and David Mitri the student well-being coordinator. They talked about the programs and support systems in place for students experiencing anxiety, depression, bullying, social pressures or other mental health issues.
The panel of guest speakers also included Warren Holland from Habitat Therapeutics and Christian Doherty, Wyngate Care, who discussed issues relating to drug and alcohol dependence. Warren suggested that Lara as a regional area had the added challenge of difficulty in accessing services they need. Cristian supported this saying that we can assist people with mental health issues by something as simple as driving them to appointments.
The funds raised from Monday's dinner are being donated to local organisation 'Read the Play' who come out to sporting clubs and run programs directly with junior players. Michael Parker from Read the Play shared the positive engagement in the region and how popular their mental health programs were becoming, leading the way to reducing the stigma around mental health issues and providing valuable support to young people in our region.
Lara Chamber of Commerce & Industry President, Karen Madden suggested that this was a positive start for the Lara region in strengthening connections between community organisations and developing a positive support network for mental health in our region. There are plans to increase mental health services locally and if people would like to become involved please contact us.
Karen Madden: President 0412 523 314 Nicole Makin-Doherty: Vice President 0403 697 574 President@larachamber.com.au